Solar Inverter Panel Luminous 3.75KW Off Grid Combo (3.75 PCU+150AH (4) 330Watts (9)
Inverter: PCU NXT 3.75KW / 48V
Poly Crystalline Panel: 330Wp x 9 No.s
Battery: 150 Ah x 4 No
Free Installation
Item with Free Delivery
₹ 210,700.00 (incl GST)
In stock
Description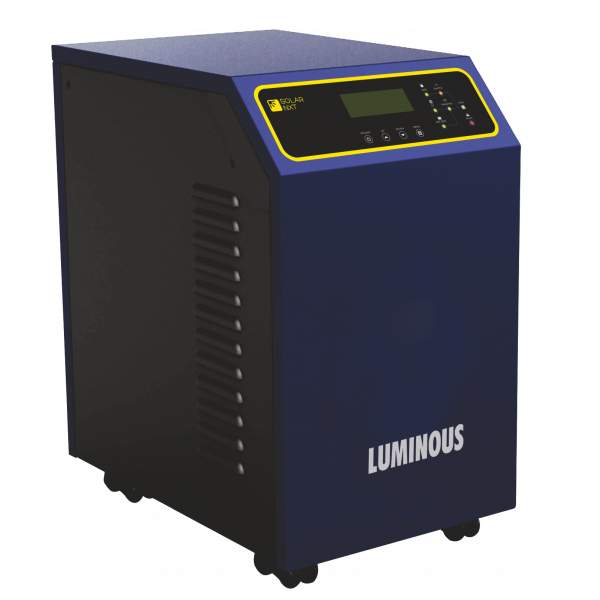 Luminous Solar PCU
The NXT range of PCUs is the ideal solution for OFF-frid applications. Designed to offer control, the PCU intelligently optimizes battery charging and power to load among solar, Battery and Grid Power.
Luminous Solar Battery – Power of Performance
Luminous solar batteries are C10 rated deep cycle batteries specially designed for longer back up. Range available – LMLA Tubular 20Ah to 200Ah. Special features are 1. Very low maintenance topping up frequency: once in 8 to 10 months. 2. Long design life (1500@80% DOD, 5000 @20% DOD) 3. It can handle extreme High temperature performance depends on weather conditions.
Luminous Solar Systems – MPPT Based with Battery
Say goodbye to frequent power cuts with off-grid MPPT based solar systems. This system is highly efficient for areas which suffers from frequent power cuts by storing extra solar energy in the batteries.
Technical Specs of Solar Inverter Panel Luminous 3KW Off Grid Combo
| | |
| --- | --- |
| Inverter Model & Charger controller rating | Luminous NXT PCU 3.75 KW 48 Volt,  MPPT, Input Voltage (Voc) 80-165 |
| Maximum Supported panel power | 3.1 (kW), Input Voltage Range (Vmp) – 60-130 |
| Inverter Warranty | 2 Years |
| Battery Model & Capacity & No of Battery in the Combo | Luminous LPTT12150H 150AH C10 Rating Tall Tubular 4 No in the Combo |
| Battery Warranty | 5 Years |
| Solar Panel | Luminous 330 Watts, 24Volt, Poly crystalline Panel |
| No of Panel in the Combo |  Total Panel Watt is 2970. 330 Watts 9 Nos |
| Panel Warranty | 25 years performance warranty |
| | |
| --- | --- |
| Product Dimension (L*W*H) in mm | PCU -" 375x315x150, Panel -" 1976x991x40, Battery – "300x504x515. |
| Approx.Roof Top Area Required (Sq.ft.) | 250 to 300 Sq.ft. |
| Solar Technology | MPPT |