Solar Inverter Panel Luminous NXG 1800 Off Grid Combo
Inverter: NXG 1800 1500 VA / 24V
Poly Crystalline Panel: 325Wp x 3 No.s
Battery: 150 Ah x 2 No
Free Installation
Availability:
Out of stock
Item with Free Delivery
₹ 95,300.00 (incl GST)
Out of stock
Description

Solar Inverter Panel Luminous NXG 1800 Off Grid Combo – The Solar ready UPS
Luminous NXG is a hybrid UPS range that intelligently uses grid and solar power. With ability to operate in a wide voltage range, NXG is the ideal starter solar solution for homes. Available from 300VA to 1500VA. Its special feature are 1.Intelligent solar optimization technique (ISOT) maximizes solar energy usage in both backup and charging mode a operation. 2. I-charge technology enables charging of batteries in a short time. This is a user defined setting. 3. Choice between Eco mode that conserves battery (Ideal for low voltage areas) and UPS mode (Ideal for computer loads)Safety and Protection against deep discharge,overcharge
Pure sinewave output ensures noiseless operation and safety of connected appliances.User defined settings.Maxmimized solar usage.2 Years warranty.
Luminous Solar Battery – Power of Performance
Luminous solar batteries are C10 rated deep cycle batteries specially designed for longer back up. Range available – LMLA Tubular 20Ah to 200Ah. Special features are 1. Very low maintenance topping up frequency: once in 8 to 10 months. 2. Long design life (1500@80% DOD, 5000 @20% DOD) 3. It can handle extreme High temperature performance depends on weather conditions.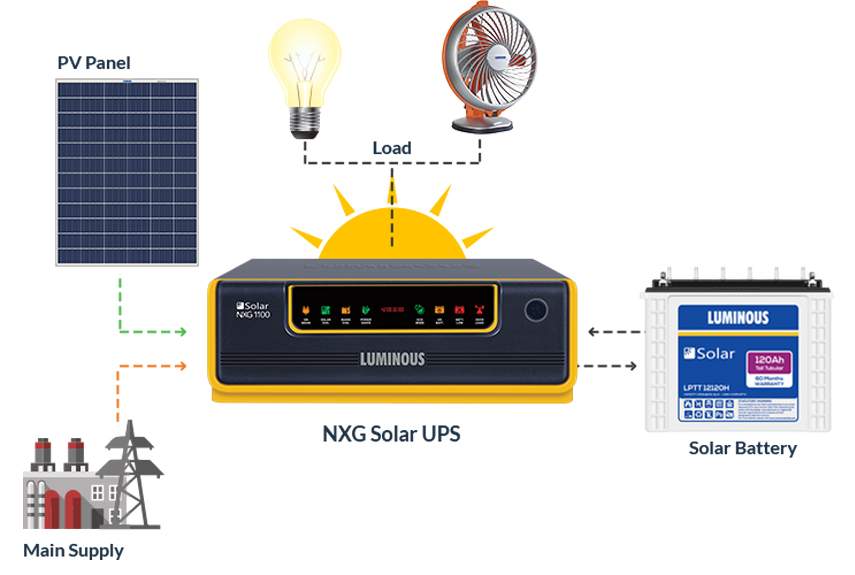 Luminous Solar Systems – PWM Based with Battery
Luminous is a global powerhouse as well as a local favourite in the solar solutions segment. Our best-in-class products and top-of-the-line workmanship, assure you of a hasslefree journey. Luminous prompt and continuous. If your area is troubled with frequent power cuts, it's time you invest in off-grid PWM Based solar system. It is a cost effective solution that lets you save extra solar energy in batteries to use during power cuts.
Technical Specs of Solar Inverter Panel Luminous NXG 1800 Off Grid Combo
| | |
| --- | --- |
| Inverter Model & Charger controller rating | NXG 1800 (1500VA) & 40 Amp/24V |
| Maximum Supported panel power | 1000 WP 24 Volt |
| Inverter Warranty | 2 Years |
| Battery Model & Capacity & No of Battery in the Combo | Luminous LPTT12150H 150AH C10 Rating Tall Tubular 2 No in the Combo |
| Battery Warranty | 5 Years |
| Solar Panel | Luminous 325 Watts, 24Volt, Poly crystalline Panel |
| No of Panel in the Combo |  Total Panel Watt is 975. 325 Watts 3 Nos |
| Panel Warranty | 25 years performance warranty |
| | |
| --- | --- |
| Product Dimension (L*W*H) in mm | Inverter -" 375x315x150, Panel -" 1976x991x40, Battery – "502x191x440. |
| Approx.Roof Top Area Required (Sq.ft.) | 100 to 120 Sq.ft. |
| Solar Technology | PWM |