Exide 1450VA Inverter With Exide GEL Magic Double Combo
Cash on Delivery available.

Guaranteed

 delivery within 12 Hours.
All India On-site warranty.
Professional Installation.
Exchange offers available
Exchange offers amount will be paid at the time of delivery.
Item with Free Delivery
₹ 46,999.00 (incl GST)
Description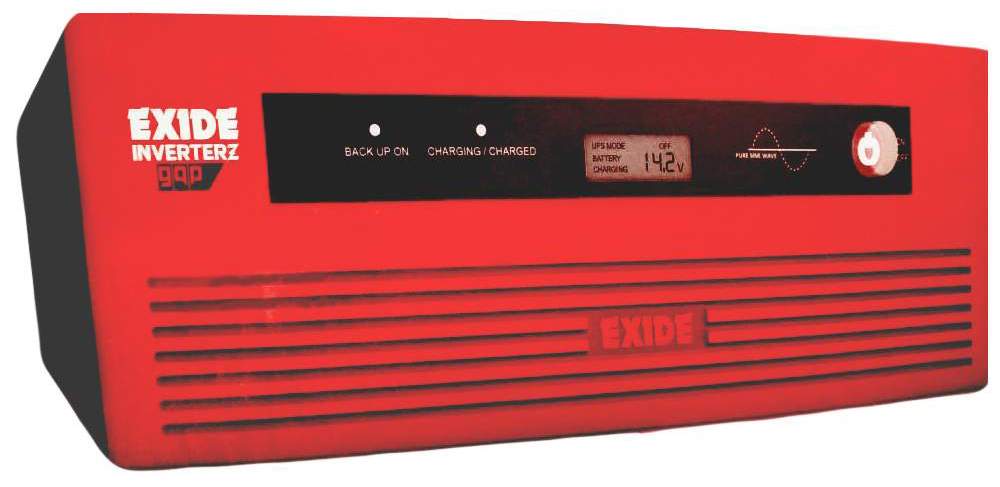 The Pure Sine Wave inverter is a top of the line model which is arguably the most sophisticated in the market today. The feature-loaded smart product is notable for its 3 stage Auto Sense Intelligent Control Charging with Auto Smart Protection and dual (LCD & LED) display. In hardware terms it is also one of the few with a copper transformer that saves power. The inverter provides steady grid quality power that is essential to safeguard your prized electronic gadgets.
Features
High Quality Pure Sine Wave
Copper Transformer
3-Stage Intelligent ASIC Charging
LCD & LED – Dual Display
Great Power Saving
Manual Mains Bypass Facility
Dual Output Sockets
Auto Smart Protections
Mains Overload through Resettable Switch.
High Quality Silica Gel – Excellent recovery from deep discharge leading to high reliability and a longer life | No Liquid inside | Complete Sealed Battery | No Fumes | No Maintenance
A VRLA Gel battery utilizes a one way, pressure-relief valve system and Gelled (immobilized) electrolyte to achieve a recombinant technology. Gelled Electrolyte is formed by addition of silicon dioxide (SiO2) to diluted Sulphuric acid (H2SO4). Fused gelled electrolyte not only acts as electrolytic medium for ion movement but also provides infinite small crevices necessary for recombination reaction. Oxygen normally produced on the positive plate is transported to negative plates through crevices formed in fused gel and it is then absorbed by negative plates. This surpasses the production of hydrogen at the negative plates. Water (H2O) is produced instead, retaining the moisture within the battery. It never needs watering, and should never be opened as this would expose the battery to excess oxygen from air.
Technical Specs
| | |
| --- | --- |
| Recommended | 3 BHK House |
| Battery Backup time | 2 to 40 Hours |
| Inverter Model & Waveform | Exide 1450 Sinewave Output (copper Transformer) |
| Battery Model & Capacity | Exide GEL Magic 150AH Tall Tubular |
| Inverter Warranty | 2 Years On-site warranty |
| Battery Warranty | 48 Months Replacement Warranty |
| Delivery | Within 12 hours |
| | |
Load Chart
| | |
| --- | --- |
| Option 1 | 8 Lights + 7 Fans |
| Option 2 | 4 Lights + 4 Fans + 1 Fridge + 1 Television |
| Option 3 | 6 Lights + 6 Fans + 1 Televison + 1 Computer |