Authorized Luminous Inverter Battery Dealer in Chennai
Luminous Life-Max LM18075 - Power that lasts long and goes on and on
Lumious Life-Max tall tubular battery delivers unparalleled power back up even at the hardest of times. So when you choose Luminous product,you choose the avant grande technology. That's why, we bring to you an unprecedented 5 YEAR FREE REPLACEMENT WARRANTY battery that allows you to enjoy free replacement, in case of any malfunctioning. Life max available at Olive Power in Luminous battery in Chennai
Tubular technology with higher acid volume per ampere hour capacity
HADI spine casting for long service life
Minimum maintenance, Rugged battery for tough conditions.
Most suitable for deep cycle applications
Long service life.
Shop Now
Luminous Inverter Battery Dealer in Chennai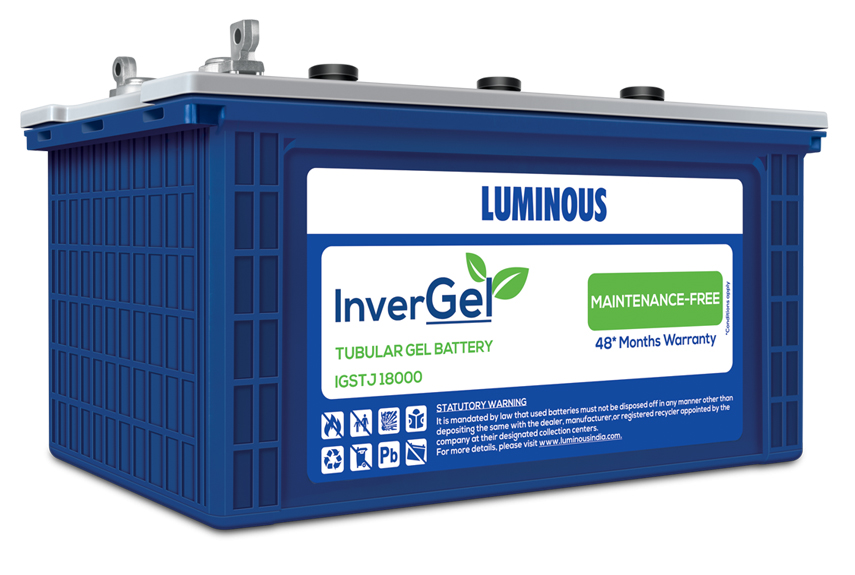 Luminous Invergel - Once Fit Forget It
Unlike distilled water battery, Invergel is filled with Gel. It requires no water top up and is completely spllage proof. Gel guarantees up to 20% more power, long life and more consistent backup than distilled water battery. It is environment friendly and safer as it emits no fumes and is absolutely maintenance free. Invergel available at Olive power Luminous battery in Chennai.
Consistent backup over life
fill the with gel for zero maintenance and long life
Enivironment friendly
No fumes and absolutely maintenance free
Zero spillage risk
Buy Now