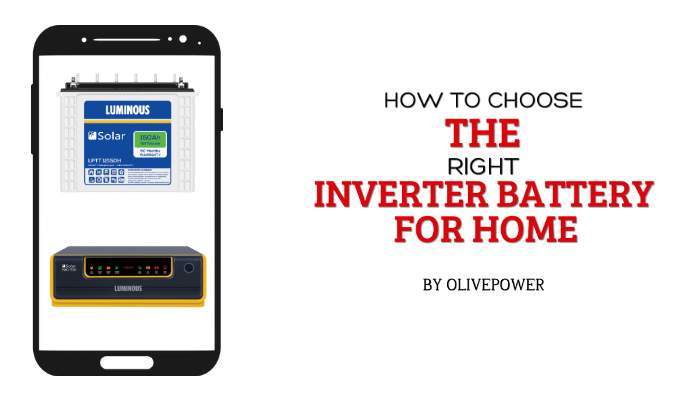 Hot summers are here in full swing, and so are frequent power cuts. We all will agree that inverters are the most required products of the summer season in India. So, if you are planning to buy or replace your old inverter with a new one, then instead of being trapped in the marketing gimmicks, be your own educator. Understand some fundamental truth about inverters (sinewave or Squarewave) and inverter batteries (tubular, Nontubular), before going for the best buy.
First Calculate your power requirements for an inverter
Inverter is not a generator and has its own limitations. You can't power and run the complete household with a normal inverter.
Decide the appliances and gadgets you want to run on the inverter with their power consumptions.
Running and starting power requirement of all electric appliances are different. Some appliances like refrigerator, washing machine,Pump motors etc. take almost double power to start as compared to the normal running power.
Find the VA rating: It is the voltage and current supplied by the inverter to the equipment. If the inverter operates with 100% efficiency, this means that the power requirement of the appliances and power supplied by the inverter is the same. But this is ideally not possible, and this is known as the power factor of an inverter. Thus, the combination of your power requirement and inverter's power factor decides the VA ratings of an inverter.
UPS or Inverter: UPS and inverter generally does the same job, i.e. converting DC into AC in case of power failures. But for a home, the backup power requirement is higher. UPS cannot supply that much power and only support it for a few minutes. The inverters are classified according to their output waveforms with the three common types being the square wave, the pure sine wave and the modified sine wave. It is best to buy pure sine wave inverters
Battery: The life and performance of an inverter are very much dependent on battery quality. The capacity of a battery is expressed in terms of Ampere Hour (Ah). It indicates:
1.No of back up hours.
2.Power requirement
3.Voltage of the battery
Automotive like car,truck,genset batteries are not suitable for home Inverters: Lead-acid batteries used for automotive purpose are termed as "high cycle" lead-acid batteries while the requirement of the inverter is totally different. They require a "deep cycle" batteries to provide continuous power.
SMF or Maintenance-free batteries: These batteries are sealed lead-acid batteries which do not require topping up or additional ventilation. But the life of maintenance-free batteries is comparatively low, and the cost is comparatively high.
Tubular batteries: There are two type of lead acid batteries. One is Flat battery. Other is Tubular Battery. Tubular battery is the most popular segment of inverter batteries. Tubular batteries have a complex design, while flat plate batteries have a simple make up. The high electrical efficiency and extra-long life make tubular batteries suitable for both domestic and industrial applications. A good maintained tubular battery life span is upto 6 to 8 years or more.
The Manufacturer of the Batteries: It is always advisable to go for a trusted brand for both inverter and inverter batteries. If you are getting this under a reliable name, one should not leave such an opportunity. It always helps with after-sales support and maintenance issues. Luminous,Amaron,Exide can be your saviour in this aspect, as our reliable brand provides the best inverter and inverter batteries for your home backup requirements. Their robust, sturdy and long-lasting products come with a good warranty span and unmatched results. They are a pioneer in the field of manufacturing, trusted inverter and inverter batteries